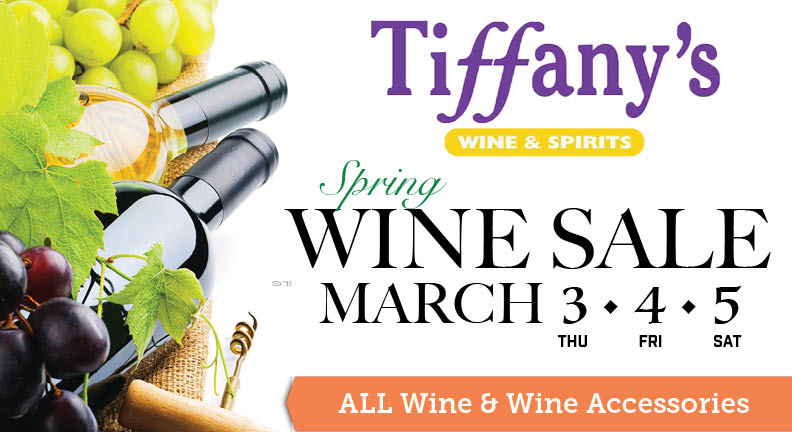 Mark your calendar, sale shoppers! It's time to stock up on some wines for spring. ALL wines including red and white, champagne and sparkling, fortified (port, madeira, sherry, marsala) and dessert wine, vermouth, mead and even sake will be 25% OFF during Wine Sale. Our Wine Sale features great prices on vast selection of bottles and gift. Make your shopping list and stop in to find great bottles of wine for spring.
Q: What does 25% Off sale include?
A: Any wines you can think of. From everyday wines to cellar-worthy wines from all around the world. Yes, our Wine Sale also includes mead (honey wine), vermouth (wine base aperitif) and Sake! *This sale cannot combine with other offer or wines already on sale or discounted – Wine of the Month, Wine of the Year and $6.99 Spanish wines.
Q: I'll be traveling during your Wine Sale weekends. Can I purchase earlier or later and still receive the same discount?
A: Yes you can! Call or email us ahead to reserve your wine prior to Wine Sale. You can pick up your wine before you leave or after you come back.
Q: I'm new to wine. Can you recommend something good for me or special occasion?
A: Of course we can. That's what we're here for. Feel free to ask our staff to suggest a bottle (or more) of wine for dinner with friends, gift, wedding, etc.
Q: Do I need to be a member of your Wine Club to receive 25% off?
A: No. Wine Sale is for everyone. However, we highly encourage you to sign up our weekly e-mail newsletter to receive exclusive offer, wine & spirits tasting, and more.
Q: Is there any minimum or limit of purchase to receive 25% off?
A: No. Even one bottle, you can still receive the Wine Sale discount. Don't miss this great sale to stock up on some wines. If you miss this Spring Wine Sale, you have to wait until June for the next sale.
More questions? Please e-mail or call us.