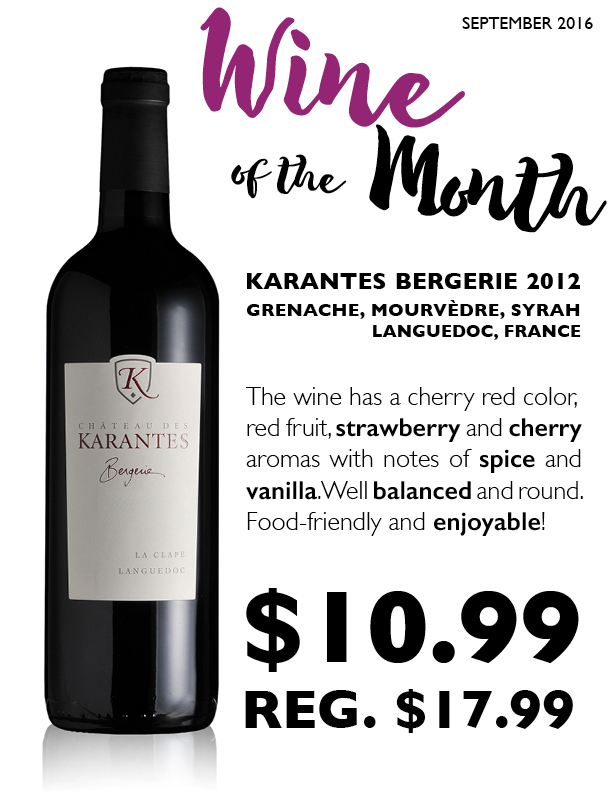 Château des Karantes Bergerie 2012
Château des Karantes is a magni cent vineyard situated in Languedoc-Rousillon. The domaine is in the heart of a small valley located two minutes away from the Mediterranean between the seaside resort towns of Narbonne Plage and St. Pierre sur Mer. The estate offers a beautiful panoramic view of the Mediterranean Sea with the Pyrenee Mountains visible in the distance.
The vineyard is named after the Bishop of Carcassonne, owner of the estate hundreds of years ago. The estate, nestled in the Mediterranean Garrigue, is made up of 190 hectares, 44 of which are currently planted under vine. The vineyard extends along the limestone, clay and rocky slopes which form the "Massif" or Ridge of La Clape.
The entire vineyard is in the Languedoc – La Clape appellation. The location allows the production of quality wines because of its exceptional South-East/East exposure, its proximity to the sea and its Mediterranean climate.
Vinification: After careful harvesting and sorting the wine is fermented in stainless steel tanks at low temperatures. The fermentation and maceration last approximately 3 weeks. The wine is aged in stainless steel tanks to preserve the freshnes and natural fruit character of the wine
Tasting Notes: The wine has a cherry red color, red fruit, strawberry and cherry aromas with notes of spice and vanilla. Well balanced and round, this wine is soft and fruity; a friendly and enjoyable wine!