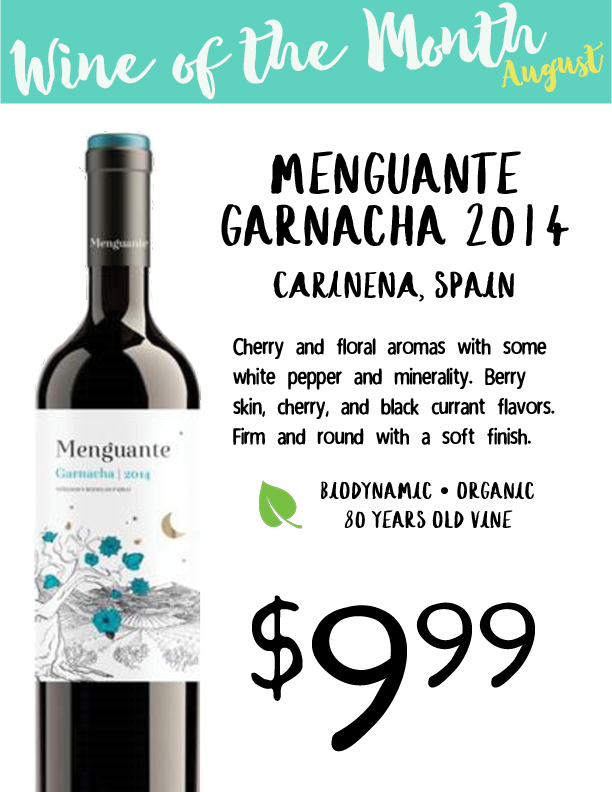 Menguante Garnacha 2014 – Ribera del Duero, Spain
WINERY
Vinedos y Bodegas Pablo is a family owned and operated bodega with estate owned vineyards located in Almonacid de la Sierra in the Carinena region. The Pablo family has a long winemaking tradition in the region with indigenous grapes. Additionally, they have been dedicated to biodynamic farming and viticulture for many years. No herbicides or chemicals of any kind are used in the vineyards.
HISTORY
The bodega was founded in 1760. Pablo Casao and his sisters constructed their present state-of-the-art bodega over the former bodega. The Pablo family continues to implement cutting edge technology in this modern facility. Their objective is to transmit the essence of the land and the unique flavor of the indigenous grapes to their wines.
REGION
The Cariñena region is located in eastern Spain approximately halfway between Barcelona and Bilbao near the foothills of the Pyrenees. Wine has been made in the Cariñena region since the Roman Empire. Cariñena was originally named after the grape varietal (or Carignon) because Carignon was widely planted in the region. Carignon now accounts for less than 10 percent of the production and is being replaced by Garnacha. The vineyards are located in the foothills of the Sistema Iberico mountain range between 1600 and 2700 feet above sea level. The continental climate has extreme variations of temperature between day and night.
TASTING NOTES
Bright violet color. Cherry and floral aromas with some white pepper and minerality. Berry skin, cherry, and black currant flavors. Firm and round with a soft finish.